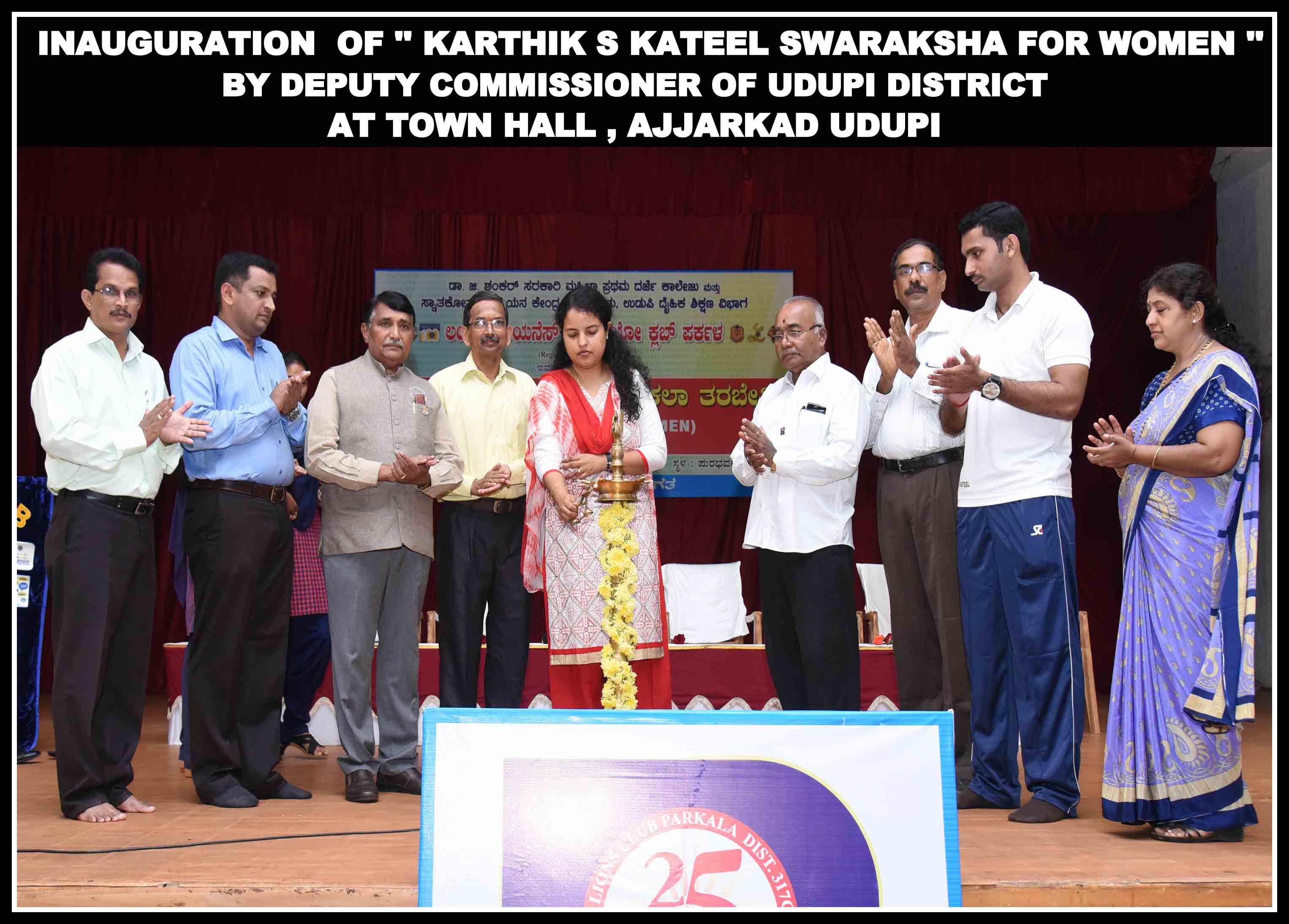 OBJECTIVES OF SWARAKSHA FOR WOMEN TRUST(R) :
1) TO EMPOWER STUDENTS AND WOMEN.
2) TO TRAIN FEMALES ON HOW TO DEFEND THEMSELVES AGAINST RAPE OR HARASSMENT USING "KARTHIK S KATEEL  SWARAKSHA FOR WOMEN" SELF DEFENCE WORKSHOPS.
3) TO SOLVE THE CASES RELATED TO HARASSMENT.
4) TO CREATE AWARENESS AMONG WOMEN AND STUDENTS ABOUT THE LAWS AGAINST HARASSMENT AND  RAPE.
5) TO CONDUCT SELF DEFENCE TRAINING/ AWARENESS PROGRAMMES IN RURAL AREAS.
6) TO CONDUCT COUNSELLING PROGRAMS FOR STUDENTS.
7) TO TRAIN STUDENTS ABOUT THE DUTY OF A GOOD CITIZEN.
8) TO START BRANCH OFFICES IN DIFFERENT PLACES ACCORDING TO THE NEED AND CONVENIENCE OF THE SITUATION.
9) TO CONDUCT K-12 PROGRAMMES FOR RURAL AREA STUDENTS.
10) TO DEVELOP SWARAKSHA FOR WOMEN TRUST AS A CENTRE OF EXCELLENCE, IMPARTING QUALITY AWARNESS WORKSHOPS WITH HIGH DEGREE OF SOCIAL CONCERN.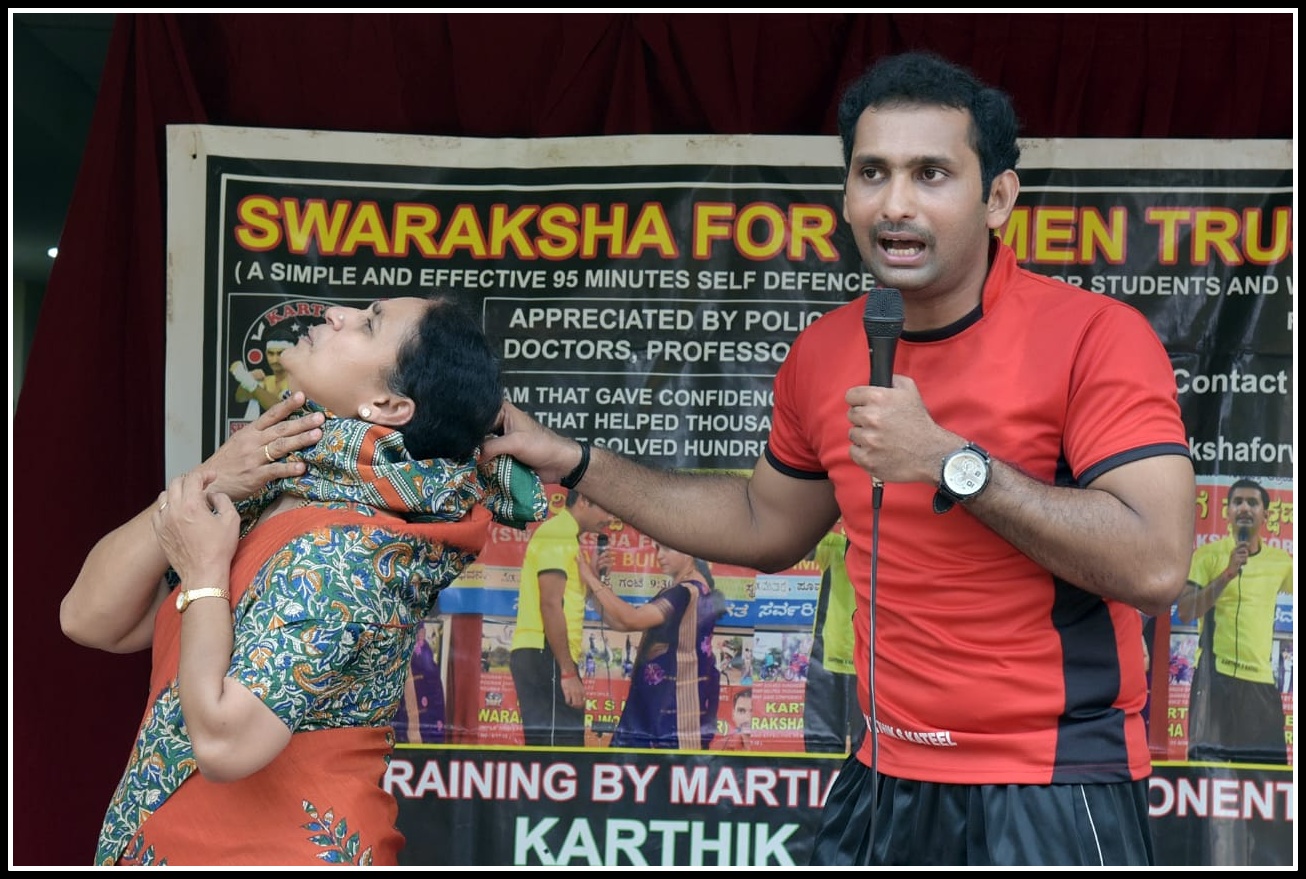 ABOUT " KARTHIK S KATEEL SWARAKSHA FOR WOMEN WORKSHOP"
This training / awareness workshop was started on August 2014.
The entire duration of this training / awareness workshop is 95 minutes.
This training does not contain any form of karate or martial arts and no blocks, kicks or punches are advocated.
This workshop is purely choreographed on the basis of psychology and real incidents.
This training session includes the different situations of harassments, the awareness to be taken during such situations and the proper way to defend ourselves using Psychological methods and self-defence tricks and techniques.
This workshop has been choreographed and copyrighted by Karthik S kateel.
The trainers of this workshop : Mr. Karthik S Kateel and Mrs. Shobhalatha
The tricks and techniques trained in this workshop can be easily used by females between 10 to 60 years of age.
We have also solved many Problems of female students by our tricks and also by visiting the nearest police stations.
Recently girls have saved themselves from harassment and rape attempt using Karthik S Kateel's techniques which was demonstrated to them by Karthik S Kateel at their institutions.
This training programme circulated from one institution to another by word of mouth.
This Workshop has won the appreciation of Police Department, Doctors, Professors, Academicians and students.
The Requirements of this workshop: A Stage, Audible speakers and cordless mic.
Maximum number of students trained in a session is 3000 at Maharani Arts College, Mysore.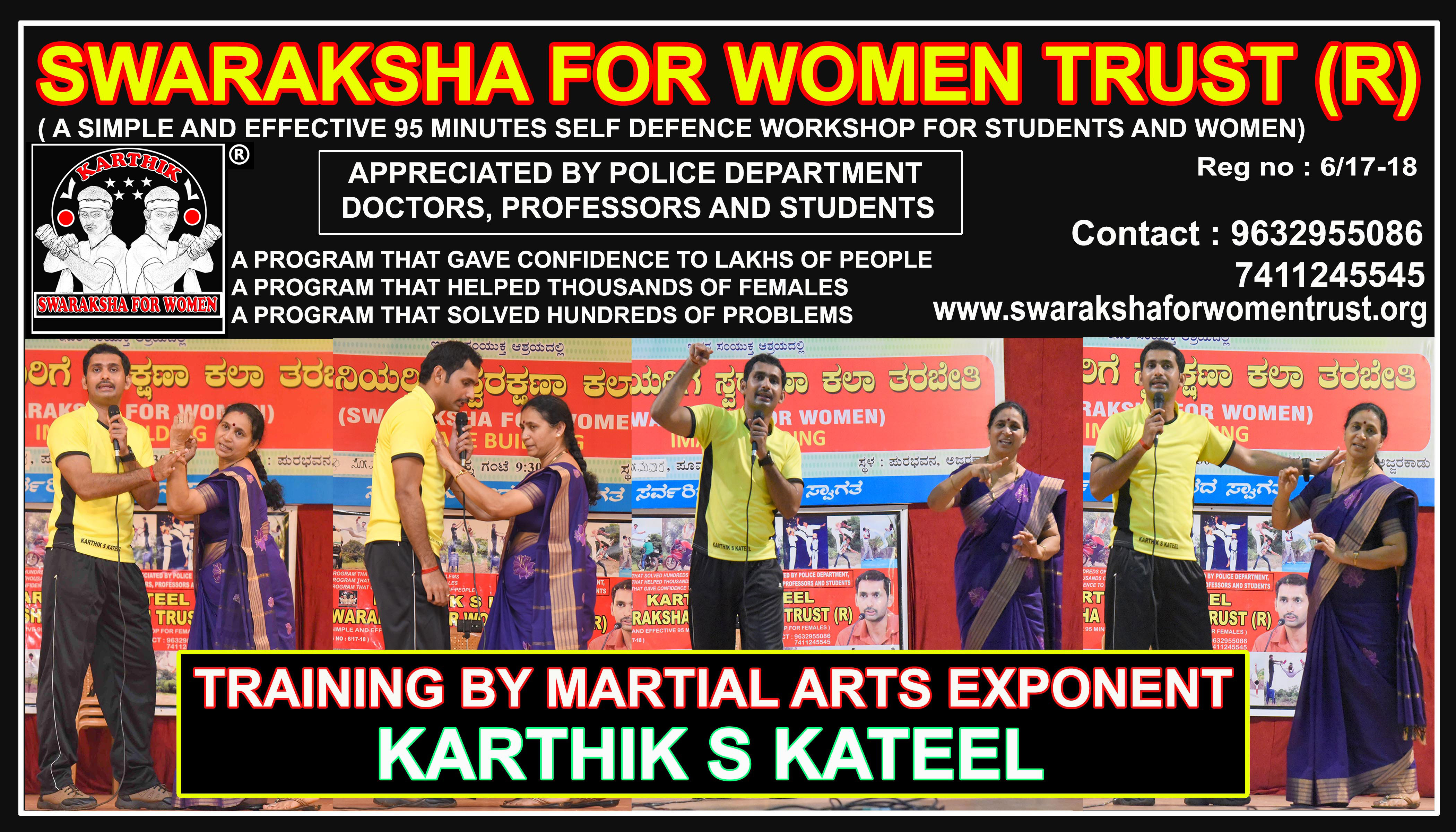 "KARTHIK - SWARAKSHA FOR WOMEN" - A SELF DEFENCE WORKSHOP.
 

  SERIAL   NUMBER

DATE

 

 

NAME OF THE INSTITUTIONS

NUMBER OF     STUDENTS TRAINED
1
6-8-2014

8-8-2016

10-10-2018

BESANT WOMENS COLLEGE , MANGALORE
400

400

500

2
7-8-2014
TOYOTO SHOWROOM , MANGALORE
30
3
8-8-2014

18-8-2017

26-6-2018

22-6-2019

7-3-2022

13-10-2022

SDM COLLEGE, MANGLORE
100

70

200

255

200

120

4
9-8-2014

25-11-2015

28-12-2021

12-10-2022

GOVINDASA PU COLLEGE, SURATHKAL
60

250

250

60

5
27-8-2014

31-12-2016

11-8-2018

S.D.P.T DEGREE COLLEGE, KATEEL
400

60

400

6
30-8-2014
NOBLE HIGH SCHOOL, KUNJATHBAIL
60
7
16-9-2014

2-3-2019

S.N.S COLLEGE, SUNKADAKATTE
130

100

8
18-9-2014

5-11-2022

ROSHINI NILAYA DEGREE COLLEGE, MANGALORE
120

160

9
4-9-2014

11-9-2014

19-9-2014

21-8-2017

22-8-2017

14-2-2019

GOVINDASA COLLEGE AND POST GRADUATION CENTRE, SURATHKAL
50

150

150

80

60

100

10
20-9-2014

22-11-2014

ST. AGNES COLLEGE, MANGALORE
120

450

11
20-9-2014
UNIVERSITY COLLEGE, MANGALORE
120
12
22-9-2014

11-8-2017

GOKARNANATHESHWAR COLLEGE, MANGALORE
100

90

13
14-10-2014
M.R PUNJA I.T.I , THOKUR
25
14
17-10-2014
JUSTICE K.S HEGDE COLLEGE OF MANAGEMENT, NITTE
120
15
27-10-2014

20-9-2018

ST JOSEPH ENGINEERING COLLEGE, VAMANJOOR
400

600

16
28-10-2014
GOVERNMENT WOMENS I.T.I, MANGALORE
30
17
28-10-2014
KPT, MANGALORE
100
18
29-10-2014
AJ INSTITUTE OF MANAGEMENT, MANGALORE
30
19
30-10-2014
GOKARNANATHA PU COLLEGE AND PG CENTRE, MANGALORE
100
20
12-11-2014
VIDHYAVARDHAKA PU COLLEGE, MUNDKUR
100
21
12-11-2014
VIDHYAVARDHAKA HIGH SCHOOL, MUNDKUR
150
22
21-11-2014

26-10-2018

MILAGRES PU COLLEGE, MANGALORE
140

70

23
22-11-2014
MOUNT CARMEL CENTRAL SCHOOL AND PU COLLEGE, MANGALORE
120
24
24-11-2014
DR. M RAMANNA SHETTY CBSE SCHOOL, THOKUR
80
25
24-11-2014
POPULAR BUNTS ENGLISH MEDIUM SCHOOL, BAJPE
120
26
29-11-2014
S.D.P.T PU COLLEGE, KATEEL
440
27
1-12-2014

21-10-2017

S.D.P.T HIGH SCHOOL, KATEEL
260

320

28
2-12-2014
BHUVANA JYOTHI CBSE SCHOOL, SHIRTADY
100
29
3-12-2014
DR NSAM CBSE SCHOOL, NITTE
120
30
4-12-2014

18-7-2016

S.N.S PU COLLEGE, SUNKADAKATTE
110

100

31
5-12-2014

4-2-2022

ANSAR ENGLISH MEDIUM SCHOOL, BAJPE
160

300

32
5-12-2014
ANSAR PU COLLEGE, BAJPE
30
33
5-12-2014
HOLY FAMILY ENGLISH MEDIUM HIGH SCHOOL, BAJPE
60
34
5-12-2014
HOLY FAMILY KANNADA MEDIUM SCHOOL, BAJPE
195
35
6-12-2014
NITK KANNADA MEDIUM HIGH SCHOOL, SRINIVASANAGARA
75
36
9-12-2014

8-10-2016

DR NSAM KANNADA MEDIUM HIGH SCHOOL, NITTE
120

45

37
10-12-2014
GOVERNMENT HIGH SCHOOL, BRAHMARAKOOTLU
60
38
10-12-2014
MUHIYUDDIN HIGH SCHOOL AND PU COLLEGE, THUMBAY
300
39
11-12-2014
MGC PU COLLEGE, BONDEL
150
40
12-12-2014
BETHANY HIGH SCHOOL, MULKI
60
41
12-12-2014
MADELIENE PU COLLEGE, MULKI
50
42
17-12-2014
ST JOSEPH KANNADA MEDIUM HIGH SCHOOL, BELMAN
100
43
18-12-2014
GOVERNMENT FG COLLEGE, PUNJALKATTE
600
44
22-12-2014
ST JOSEPH ENGLISH MEDIUM SCHOOL, BELMAN
70
45
22-12-2014

23-12-2014

16-6-2015

23-6-2017

21-8-2018

14-2-2020

27-1-2022

DR NSAM FG COLLEGE, NITTE
100

200

100

200

100

110

250

46
25-12-2014
GOKARNANATHESHWARA FG COLLEGE NSS UNIT, KONCHADY
30
47
27-12-2014
VIDHYADHAYINI HIGHER PRIMARY SCHOOL, SURATKAL
120
48
31-12-2014
MORARJI DESAI HIGH SCHOOL, KALLABETTU
230
49
7-1-2015

21-8-2015

7-8-2017

SVT WOMENS FG COLLEGE, KARKALA
370

100

20

50
8-1-2015

26-2-2018

GOVERNMENT FG COLLEGE, BELTHANGADY
400

170

51
9-1-2015

14-10-2016

24-8-2018

7-1-2022

VIJAYA FG COLLEGE, MULKI
100

80

150

200

52
14-1-2015
K.S.P.M.G HIGH CHOOL, PERVAGE
190
53
16-1-2015

28-1-2015

RUKHMINI SHEDTHI GOVERNMENT FG COLLEGE AND PG CENTRE, BARKUR
100

800

54
16-1-2015

10-8-2017

15-9-2022

NIRMALA HIGH SCHOOL AND PU COLLEGE, BRAHMAVAR
110

200

170

55
17-1-2015

5-2-2022

GOVERNMENT WOMENS POLYTECHNIC, BONDEL
400

300

56
19-1-2015
ST GEROSA HIGH SCHOOL, JEPPU
600
57
19-1-2015
CAPITANIO HIGH SCHOOL, KANKANADY
400
58
20-1-2015
GOVERNMENT HIGH SCHOOL AND PU COLLEGE, BELMAN
100
59
20-1-2015

19-7-2017

28-1-2019

13-7-2022

ST MARYS FG COLLEGE AND PG CENTRE, SHIRVA
400

350

200

150

60
21-1-2015

28-7-2017

GOVERNMENT FG COLLEGE, KAVOOR
100

20

61
22-1-2015

23-2-2018

GOVERNMENT FG COLLEGE, BANTWAL
110

70

62
22-1-2015

8-3-2017

GOVERNMENT FG COLLEGE, MUDIPU
120

160

63
23-1-2015
SHARADHA GANAPATHI VIDHYAKENDRA, KAIRANGALA
60
64
26-1-2015
GOVERNMENT FG COLLEGE, CARSTREET
400
65
27-1-2015
NIRMALA KANNADA MEDIUM SCHOOL, BRAHMAVAR
400
66
27-1-2015
NIRMALA ENGLISH MEDIUM SCHOOL, BRAHMAVAR
100
67
27-1-2015
NATIONAL HIGH SCHOOL AND PU COLLEGE, BARKUR
100
68
27-1-2015
MARYNOL HIGH SCHOOL, BARKUR
75
69
29-1-2015
CARMEL HIGH SCHOOL AND PHILOMENA HIGH SCHOOL, KEMMANNU
120
70
29-1-2015
CARMEL HIGHER PRIMARY SCHOOL, KEMMANNU
60
71
29-1-2015

16-7-2015

MSRS FG COLLEGE, SHIRVA
220

30

72
31-1-2015
KANACHUR FG COLLEGE, DERALAKATTE
255
73
2-2-2015

10-2-2020

MAHESH COLLEGE OF MANAGEMENT, MANGALORE
60

80

74
3-2-2015
GOVERNMENT PU COLLEGE, VAMADAPADAVU
180
75
3-2-2015
GOVERNMENT FG COLLEGE, VAMADAPADAVU
220
76
4-2-2015

28-2-2018

BHANDARKARS FG COLLEGE, KUNDAPURA
200

900

77
6-2-2015
SS HIGH SCHOOL AND PU COLLEGE, SUBRAHMANYA
600
78
6-2-2015
KSS FG COLLEGE, SUBRAHMANYA
420
79
11-2-2015

21-9-2017

SACRED HEART FG COLLEGE, MADANTHYAR
300

120

80
14-2-2015
UNIVERSITY PG CENTRE , MANGALORE
50
81
16-2-2015

10-3-2018

27-3-2021

DR M.V SHETTY COLLEGE OF NURSING, KAVOOR
120

90

80

82
18-2-2015

27-3-2018

10-8-2018

14-8-2019

NMAM INSTITUTE OF TECHNOLOGY, NITTE
40

150

360

350

83
18-2-2015
NRAM POLYTECHNIC, NITTE
70
84
19-2-2015
NEHRU MEMORIAL FG COLLEGE, SULLIA
200
85
19-2-2015
GOVERNMENT FG COLLEGE, SULLIA
500
86
20-2-2015

23-8-2018

3-8-2022

SHREE DEVI INSTITUTE OF TECHNOLOGY, KENJAR
120

400

100

87
21-2-2014

27-1-2018

PPC FG COLLEGE, UDUPI
100

100

88
22-2-2015
GANIGA SANGHA AND ROTARY CLUB, MOODABIDRE
70
89
24-2-2015
GOVERNMENT FG COLLEGE AND PG CENTRE, THENKANIDIYOOR
50
90
25-2-2015
GOVERNMENT FG COLLEGE, HIRIADKA
150
91
25-2-2015
BESANT EVENING COLLEGE, MANGALORE
80
92
26-2-2015

7-2-2020

GOVERNMENT WOMENS FG COLLEGE, PUTTUR
120

700

93
26-2-2015
GOVERNMENT FG COLLEGE, PUTTUR
200
94
26-2-2015
GOVERNMENT FG COLLEGE, BETTAMPADY
100
95
27-2-2015

31-7-2017

GOVERNMENT FG COLLEGE, HALEYANGADI
220

200

96
3-3-2015
GOVERNMENT FG COLLEGE, KOTA
400
97
4-3-2015
PPC COLLEGE OF MANAGEMENT, UDUPI
60
98
4-3-2015

8-3-2016

CANARA FG COLLEGE, MANGALORE
100

500

99
5-3-2015(2)

12-1-2017

22-11-2022

GOVERNMENT WOMENS FG COLLEGE, BALMATA
600

50

230

100
6-3-2015
DR M.V SHETTY INSTITUTE OF TECHNOLOGY, MOODABIDRE
160
101
6-3-2015
ADARSHA BHARATHI HIGH SCHOOL, PADIL
65
102
7-3-2015
MILAGRES FG COLLEGE, MANGALORE
120
103
7-3-2015
PPC EVENING COLLEGE, UDUPI
55
104
10-3-2015

1-8-2022

MAHARANI WOMENS ARTS COLLEGE, MYSORE
3000

1500

105
10-3-2015
MAHARANI WOMENS COMMERCE COLLEGE, MYSORE
400
106
10-3-2015
GOVERNMENT WOMENS FG COLLEGE, VIJAYANAGARA
400
107
11-3-2015
GOVERNMENT WOMENS FG COLLEGE, K.R NAGAR
900
108
11-3-2015
GOVERNMENT FG COLLEGE, K.R NAGAR
300
109
12-3-2015
MAHARANI WOMENS SCIENCE COLLEGE, MYSORE
2500
110
12-3-2015
GOVERNMENT WOMENS FG COLLEGE, MANDYA
1800
111
13-3-2015
GOVERNMENT WOMENS FG COLLEGE, MADIKERI
50
112
18-3-2015
POST METRIC MINORITIES HOSTEL, MANGALORE
170
113
18-3-2015
ROTARY CLUB, MANGALORE
30
114
19-3-2015

23-2-2019

ST RAYMONDS FG COLLEGE, VAMANJOOR
210

100

115
26-3-2015
GOVERNMENT FG COLLEGE, KUVEMPUNAGARA
200
116
26-3-2015
GOVERNMENT FG COLLEGE, SIDDARTHANAGARA
100
117
27-3-2015

20-8-2019

GOVERNMENT FG COLLEGE, T. NARASIPURA
200

250

118
27-3-2015

22-8-2019

GOVERNMENT FG COLLEGE, BAIRAURA
70

250

119
27-3-2015
GOVERNMENT FG COLLEGE, TALAKADU
40
120
28-3-2015
GOVERNMENT FG COLLEGE, NANJANGOOD
1000
121
30-3-2015

21-8-2019

GSSS INSTITUTE OF TECHNOLOGY, MYSORE
1000

400

122
31-3-2015
NIE FG COLLEGE, MYSORE
200
123
1-4-2015
GOVERNMENT SCHOOL, KODIKAL
70
124
6-4-2015
DEVRAJ URS FG COLLEGE, HUNSUR
100
125
7-4-2015
GOVERNMENT FG COLLEGE, SALIGRAMA
100
126
10-5-2015
HIDAYATH CENTRE OF GIRLS ISLAMIC GROUP, MANGALORE
60
127
9-6-2015

16-11-2016

KITTEL MEMORIAL PU COLLEGE, MANGALORE
50

10

128
9-6-2015

16-11-2016

KITTEL MEMORIAL HIGH SCHOOL, MANGALORE
70

20

129
19-6-2015
SVS FG COLLEGE, BANTWAL
500
130
26-6-2015
PU COLLEGE PRINCIPAL ASSOCIATION, DAKSHINA KANNADA
200
131
26-6-2015

7-9-2017

SM KUSHE PU COLLEGE, MANGALORE
100

350

132
26-6-2015
BEM HIGH SCHOOL, MANGALORE
60
133
27-6-2015
GOVERNMENT FG COLLEGE, BYNDOOR
60
134
27-6-2015
GOVERNMENT PU COLLEGE, BYNDOOR
200
135
29-6-2015
GOVERNMENT HIGH CHOOL, BOKKAPATNA
20
136
29-6-2015
GOVERNMENT PU COLLEGE, BOKKAPATNA
15
137
30-6-2015

11-8-2017

POMPEI HIGH SCHOOL AND PU COLLEGE, AIKALA
300

600

138
1-7-2015
GOVERNMENT PU COLLEGE, KOKKADA
100
139
1-7-2015
GOVERNMENT HIGH SCHOOL, KOKKADA
70
140
1-7-2015
BISHOP POLICARPOSE SCHOOL, SHIRADY
70
141
2-7-2015

29-7-2019

RAMAKRISHNA PU COLLEGE, MANGALORE
100

50

142
2-7-2015

29-7-2019

RAMAKRISHNA FG COLLEGE, MANGALORE
300

100

143
3-7-2015

30-8-2017

CROSSLAND FG COLLEGE, BRAHMAVAR
200

100

144
3-7-2015

11-1-2022

UPPENDRA PAI MEMORIAL FG COLLEGE, UDUPI
100

100

145
4-7-2015
KANACHUR PU COLLEGE, DERALAKATTE
210
146
4-7-2015
VISHWAMANGALA HIGH SCHOOL, MANGALAGANGOTHRI
50
147
4-7-2015
VISHWAMANGALA PU COLLEGE, MANGALAGANGOTHRI
50
148
6-7-2015
SHASTRY PU COLLEGE, HUNSUR
200
149
6-7-2015
SHASTRY KANNADA AND ENGLISH MEDIUM HIGH SCHOOL, HUNSUR
500
150
6-7-2015
ST JOSEPH KANNADA AND ENGLISH MEDIUM HIGH SCHOOL, HUNSUR
300
151
7-7-2015
TALENT PU COLLEGE, HUNSUR
100
152
7-7-2015
TALENT HIGH SCHOOL, HUNSUR
200
153
7-7-2015
GOVERNMENT WOMEN FG COLLEGE, HUNSUR
1200
154
8-7-2015
GOVERNMENT WOMENS PU COLLEGE, HUNSUR
1200
155
8-7-2015
GOVERNMENT WOMENS HIGH SCHOOL, HUNSUR
600
156
8-7-2015
ST JOSEPH PU COLLEGE, HUNSUR
150
157
9-7-2015
SDM PU CLLEGE, UJIRE
250
158
9-7-2015
SDM FG COLLEGE, UJIRE
250
159
10-7-2015
ROSA MYSTICA PU COLLEGE,KINNIKAMBLA
150
160
13-7-2015
GOVERNMENT PU COLLEGE, BELIYURAKATTE
100
161
13-7-2015
GOVERNMENT HIGH SCHOOL, BELIYURAKATTE
150
162
14-7-2015
KANACHUR CBSE SCHOOL, DERALAKATTE
220
163
15-7-2015

24-8-2018

VIJAYA PU COLLEGE, MULKI
200

100

164
17-7-2015
VIKAS PU COLLEGE, MANGALORE
240
165
22-7-2015

7-9-2018

MAHAVEERA PU AND FG COLLEGE, MOODABIDRI
400

450

166
23-7-2015
RAMAKRISHNA HIGHER PRIMARY SCHOOL, KONCHADI
40
167
23-7-2015
RAMAKRISHNA HIGH SCHOOL, KONCHADI
40
168
23-7-2015
RAMAKRISHNA PU COLLEGE, KONCHADI
20
169
24-7-2015
BHARATHI ENGLISH MEDIUM SCHOOL, ULLAL
100
170
24-7-2015
BHARATHI PU COLLEGE, ULLAL
50
171
25-7-2015

4-9-2018

17-12-2022

BHUVANENDRA FG COLLEGE, KARKALA
500

500

380

172
1-8-2015
SACRED HEART PU COLLEGE, MADANTHYAR
500
173
4-8-2015
GOVERNMENT HIGH SCHOOL, HUNSUR
100
174
5-8-2015
JSS HIGH SCHOOL, HUNSUR
100
175
5-8-2015
GOVERNMENT HIGH SCHOOL, HEEREKYATHANAHALLI
145
176
5-8-2015
GOVERNMENT HIGH SCHOOL, HARVE
55
177
6-8-2015
GOVERNMENT HIGH SCHOOL, KALKUNIKE
90
178
6-8-2015
GOVERNMENT HIGH SCHOOL, KATTEMALALAVADI
90
179
6-8-2015
GOVERNMENT HIGH SCHOOL, KOTTEGALA
110
180
7-8-2015
GOVERNMENT HIGH SCHOOL, MULLURU
100
181
7-8-2015
GOVERNMENT HIGH SCHOOL, MAKODU
130
182
7-8-2015
GOVERNMENT HIGH SCHOOL, CHILKUNDA
150
183
8-8-2015
GOVERNMENT Bed COLLEGE, MYSORE
40
184
15-8-2015

7-2-2020

VIVEKANANDA FG COLLEGE, PUTTUR
1000

500

185
15-8-2015

3-11-2017

29-10-2018

VIVEKANANDA PU COLLEGE, PUTTUR
800

250

300

186
18-8-2015
GOVERNMENT PU COLLEGE, MUNIYALU
100
187
18-8-2015
GOVERNMENT FG COLLEGE, MUNIYALU
100
188
20-8-2015

29-10-2015

1-9-2018

11-7-2019

ST AGNES PU COLLEGE, MANGALORE
700

700

500

800

189
21-8-2015
SVT HIGH SCHOOL, KARKALA
150
190
21-8-2015
SVT PU COLLEGE, KARKALA
400
191
22-8-2015
EXCELLENT PU COLLEGE, MOODABIDRE
200
192
24-8-2015

25-8-2018

20-9-2019

28-10-2022

ALVAS PU COLLEGE, MOODABIDRE
110

600

800

600

193
27-8-2015
VANI HIGH SCHOOL, BELTHANGADY
100
194
27-8-2015
VANI PU COLLEGE, BELTHANGADY
350
195
27-8-2015

28-10-2017

GOVERNMENT PU COLLEGE, MUNDAJE
150

180

196
28-8-2015
BGS FG COLLEGE, KAVOOR
10
197
28-8-2015
BGS PU COLLEGE, KAVOOR
30
198
28-8-2015
BGS HIGH SCHOOL, KAVOOR
50
199
1-9-2015
TERRECIAN FG COLLEGE, MYSORE
900
200
1-9-2015

18-3-2016

SBRR MAHAJANA FG COLLEGE, MYSORE
100

100

201
2-9-2015
GOVERNMENT HIGH SCHOOL, CHIKKATI
80
202
3-9-2015
TERRECIAN HIGH SCHOOL, MYSORE
400
203
3-9-2015
JSS WOMEN POLYTECHNIC, MYSORE
350
204
4-9-2015
TERRECIAN PU COLLEGE, MYSORE
510
205
4-9-2015
MAHARANI PU COLLEGE, MYSORE
150
206
4-9-2015
MAHARANI HIGH SCHOOL, MYSORE
1100
207
9-9-2015
BGS CBSE SCHOOL, KAVOOR
110
208
9-9-2015
GOVERNMENT PU COLLEGE, KAVOOR
90
209
11-9-2015
ST MARYS HIGH SCHOOL, BELTHNGADY
120
210
12-9-2015
POMPEI FG COLLEGE, AIKALA
400
211
14-9-2015

27-12-2019

GOVERNMENT HIGH SCHOOL, SIDDAKATTE
158

120

212
14-9-2015
GOVERNMENT PU COLLEGE, SIDDAKATTE
170
213
14-9-2015
GOVERNMENT FG COLLEGE, SIDDAKATTE
110
214
15-9-2015
CAMBRIDGE CBSE SCHOOL, MANGALORE
180
215
15-9-2015
GOVERNMENT HIGH SCHOOL, KAVOOR
40
216
16-9-2015
BHUVANENDRA PU COLLEGE, KARKALA
250
217
18-9-2015
MILAGRES FG COLLEGE, KALLIANPURA
150
218
21-9-2015
ROSARIO PU COLLEGE, MANGALORE
30
219
28-8-2015
ST MARYS PU COLLEGE, MANGALORE
300
220
28-8-2015
MPM GOVERNMENT FG COLLEGE, KARKALA
600
221
8-10-2015
VIVEKANANDA FG COLLEGE, RAJAJINAGAR
100
222
8-10-2015

22-1-2019

21-1-2023

NIMHANS, BANGALORE
300

220

270

223
9-10-2015
SBRR MAHAJAN HIGH SCHOOL, MYSORE
125
224
9-10-2015
SBRR MAHAJAN CBSE SCHOOL, MYSORE
76
225
9-10-2015
NIE INSTITUTE OF TECHNOLOGY, HOOTAGALLI
200
226
10-10-2015
BRIGADE SPARKLE, MYSORE
30
227
13-10-2015
ST THERESA PU COLLEGE, BELTHANGADY
140
228
13-10-2015
ST THERESA HIGH SCHOOL, BELTHANGADY
260
229
16-10-2015
JYOTHI PU COLLEGE, AJJEKAR
80
230
16-10-2015
SACRED HEART HIGH SCHOOL, BAJEGOLI
46
231
4-11-2015
GOVERNMENT PU COLLEGE, CARSTREET
210
232
9-11-2015
SVS PU COLLEGE, BANTWAL
360
233
11-11-2015
SACRED HEART KANNADA MEDIUM HIGH SCHOOL, MADANTHYAR
200
234
11-11-2015
SACRED HEART ENGLISH MEDIUM HIGH SCHOOL, MADANTHYAR
120
235
16-11-2015
SVS ENGLISH MEDIUM SCHOOL, BANTWAL
250
236
17-11-2015
RMPC CBSE SCHOOL, BANTWAL
50
237
19-11-2015
AMRATHA BHARATHI SCHOOL, HEBRI
50
238
19-11-2015
AMRATHA BHARATHI ENGLISH MEDIUM SCHOOL, HEBRI
100
239
19-11-2015
AMRATHA BHARATHI CBSE SCHOOL, HEBRI
100
240
19-11-2015
CHURCH HIGH SCHOOL, AJEKAR
60
241
19-11-2015
GOVERNMENT HIGH SCHOOL, SHIRLALU
60
242
19-11-2015
GOVERNMENT PU COLLEGE, SHIRLALU
60
243
20-11-2015
ST RAYMONDS PU COLLEGE, VAMANJOOR
280
244
21-11-2015
CARMEL HIGH SCHOOL, MODANKAUP
200
245
21-11-2015
CARMEL PU COLLEGE, MODANKAUP
150
246
23-11-2015

8-3-2017

8-3-2021

MANGALORE UNIVERSITY, KONAJE
30

600

500

247
25-11-2015
MILAGRES PU COLLEGE, KALLIANPURA
250
248
26-11-2015
GOVERNMENT HIGH SCHOOL, MULLAKADU
50
249
5-12-2015

25-1-2018

5-2-2021

22-4-2022

15-2-2023

AB SHETTY DENTAL COLLEGE, DERALAKATTE
250

200

150

120

150

250
7-12-2015
CHRIST KING HIGH SCHOOL, KARKALA
300
251
7-12-2015
CHRIST KING PU COLLEGE, KARKALA
100
252
7-12-2015
RADHA NAYAK HIGH SCHOOL, YENNEHOLE
40
253
8-12-2015(2)

22-11-2022

GOVERNMENT GIRLS PU COLLEGE, BALMATA
700

200

254
14-12-2015
PPC PU COLLEGE, ADHAMAR
150
255
17-12-2015
SHRIMAD BHUVANENDRA HIGH SCHOOL, KARKALA
150
256
19-12-2015
ST JOSEPH HIGH SCHOOL, BAJPE
160
257
19-12-2015
ST JOSEPH PU COLLEGE, BAJPE
170
258
26-12-2015
GOVERNMENT WOMENS POLYTECHNIC, KARKALA
100
259
29-12-2015
GOVERNMENT HIGH SCHOOL, PUNJALKATTE
100
260
29-12-2015
GOVERNMENT PU COLLEGE, PUNJALKATTE
200
261
31-12-2015
GOVERNMENT HIGH SCHOOL, BELLARE
200
262
31-12-2015
GOVERNMENT PU COLLEGE, BELLARE
200
263
11-1-2016
MAHATMA GANDHI HIGH SCHOOL, SAIBARKATTE
130
264
11-1-2016
GOVERNMENT HIGH SCHOOL, KAVADI
100
265
12-1-2016
GOVERNMENT HIGH SCHOOL, HESKUTTUR
100
266
12-1-2016
SVV ENGLISH MEDIUM SCHOOL, BARKUR
150
267
13-1-2016
GOVERNMENT HIGH SCHOOL, SHANKARNARAYANA
150
268
13-1-2016
GOVERNMENT HIGH SCHOOL, KANDLOOR
140
269
14-1-2016
VKR ACHARYA HIGH SCHOOL, KUNJALU
90
270
23-1-2016
MORARJI DESAI HIGH SCHOOL, AAROOR
200
271
2-2-2016
GOVERNMENT WOMENS FG COLLEGE, HOLENARASIPURA
800
272
3-2-2016
GOVERNMENT WOMENS FG COLLEGE, HASSAN
2000
273
5-2-2016
VVS FG COLLEGE
250
274
6-2-2016
Smt VHD CENTRAL INSTITUE OF HOMESCIENCE, BANGALORE
800
275
8-2-2016
GOVERNMENT FG COLLEGE, TUMKUR
150
276
8-2-2016
SHREE DEVI COLLEGE OF NURSING, TUMKUR
150
277
9-2-2016
VVN FG COLLEGE, BANGALORE
300
278
9-2-2016

14-3-2019

KEMPEGOWDA COLLEGE OF NURSING, BANGALORE
300

360

279
10-2-2016
MAHARANI SCIENCE FG COLLEGE, BANGALORE
1000
280
11-2-2016

29-1-2020

MAHARANI COMMERCE FG COLLEGE, BANGALORE
1500

700

281
11-2-2016

15-3-2019

21-1-2023

RGICD, BANGALORE
100

220

260

282
2-3-2016
GOVERNMENT FG COLLEGE, HOLENARASIPURA
150
283
2-3-2016
GOVERNMENT LAW COLLEGE, HOLENARASIPURA
60
284
2-3-2016
GOVERNMENT HOME SCIENCE COLLEGE, HOLENARASIPURA
50
285
3-3-2016
GOVERNMENT ARTS FG COLLEGE, HASSAN
1800
286
3-3-2016
NDRK FG COLLEGE, HASSAN
200
287
4-3-2016
GOVERNMENT SCIENCE FG COLLEGE, HASSAN
700
288
4-3-2016
GOVERNMENT HOME SCIENCE COLLEGE, HASSAN
60
289
5-3-2016
AVK FG COLLEGE, HASSAN
1000
290
5-3-2016
BEG FG COLLEGE, HASSAN
200
291
10-3-2016

8-3-2019

6-12-2021

PADUA FG COLLEGE, MANGALORE
300

300

180

292
13-3-2016
SACRED HEART CHURCH, MADANTHYAR
200
293
14-3-2016

8-5-2018

13-8-2019

8-3-2022

24-9-2022

20-12-2022

ALVAS INSTITUTE OF TECHNOLOGY, MIJAR
1000

600

300

600

350

300

294
16-3-2016
MAHARANI ARTS FG COLLEGE, BANGALORE
1000
295
17-3-2016

12-3-2019

GLOBAL COLLEGE OF NURSING, BANGALORE
150

350

296
17-3-2016
GOVERNMENT COLLEGE OF NURSING, BANGALORE
150
297
18-3-2016
SPOORTHI BUILDERS ASSOSIATION, MYSORE
100
298
19-3-2016
PES FG COLLEGE, MANDYA
400
299
12-4-2016
ALVAS HOMEOPATHIC MEDICAL COLLEGE, MIJAR
100
300
13-4-2016
SRI DHAVALA FG COLLEGE, MOODABIDRE
500
301
18-4-2016
ALVAS COLLEGE  OF NURSING, MOODABIDRE
100
302
22-4-2016

3-8-2022

SHREE DEVI POST GRADUATE CENTRE, KENJAR
60

100

303
14-5-2016
ALVAS AYURVEDA MEDICAL COLLEGE, MOODABIDRE
150
304
29-6-2016
FATHER MULLER COLLEGE OF NURSING, MANGALORE
600
305
7-7-2016
SRIVANI HIGH SCHOOL, NADOOR
110
306
7-7-2016
ST ANTHONY ENGLISH MEDIUM SCHOOL, SASTHANA
230
307
8-7-2016
BMM HIGH SCHOOL, KURADY
100
308
8-7-2016
SDPT HIGH SCHOOL, MANDARTHI
160
309
9-7-2016
VIVEKA GIRLS HIGH SCHOOL, KOTA
330
310
11-7-2016
CHETHANA HIGH SCHOOL, HUNGARKATTE
200
311
12-7-2016
SMS KANNADA MEDIUM HIGH SCHOOL, BRAHMAVAR
180
312
12-7-2016
SMS ENGLISH MEDIUM HIGH SCHOOL, BRAHMAVAR
180
313
13-7-2016
GOVERNMENT PU COLLEGE, BRAHMAVAR
380
314
13-7-2016
GOVERNMENT HIGH SCHOOL, UPPURU
60
315
14-7-2016
SRI NIKETHANA HIGH SCHOOL, MATAPADI
100
316
14-7-2016
SHARADHA HIGH SCHOOL, CHERKADY
180
317
15-7-2016
SMS CBSE SCHOOL, BRAHMAVAR
400
318
15-7-2016
DR TMA PAI HIGH SCHOOL, KALLIANPURA
120
319
16-7-2016
GOVERNMENT HIGH SCHOOL, BRAHMAVAR
400
320
18-7-2016

25-11-2016

27-10-2017

9-2-2021

KS HEGDE MEDICAL COLLEGE, DERALAKATTE
120

220

100

200

321
19-7-2016
VIVEKA PU COLLEGE, KOTA
600
322
21-7-2016
SMS PU COLLEGE, BRAHMAVAR
300
323
22-7-2016
SDPT PU COLLEGE, MANDARTHI
300
324
27-7-2016
NITTE PU COLLEGE, BANGALORE
60
325
27-7-2016
NITTE FG COLLEGE, BANGALORE
100
326
29-7-2016

22-2-2017

23-2-2017

GOVERNMENT FG COLLEGE, MALLESHWARAM
300

20

10

327
3-8-2016

21-3-2023

VICTORIA GIRLS HIGH SCHOOL, LADYHILL
600

420

328
13-8-2016
ANUGRAHA WOMENS PU COLLEGE, KALLADKA
195
329
13-8-2016
ANUGRAHA WOMENS FG COLLEGE, KALLADKA
145
330
16-8-2016
ANANTHA VIDHYANIKETHAN PU COLLEGE, DEVANAHALLI
60
331
16-8-2016
ANANTHA VIDHYANIKETHAN SCHOOL, DEVANAHALLI
120
332
17-8-2016

31-8-2018

12-9-2022

GOVERNMENT GIRLS PU COLLEGE, MALLESHWARAM
2000

2400

2800

333
17-8-2016
MLA FG COLLEGE, MALLESHWARAM
140
334
18-8-2016
GOVERNMENT FG COLLEGE, DEVANAHALLI
600
335
18-8-2016
GOVERNMENT PU COLLEGE, DEVANAHALLI
400
336
26-8-2016
VICTORIA GIRLS PU COLLEGE, LADYHILL
250
337
30-8-2016
ST ANNS PU COLLEGE, MANGALORE
520
338
31-8-2016
DR. BB HEGDE FG COLLEGE, KUNDAPURA
670
339
8-9-2016
NITTE INSTITUTE OF COMMUNICATION, DERALAKATTE
60
340
6-10-2016
GOVERNMENT PU COLLEGE, BAJAGOLI
200
341
5-11-2016

15-12-2018

VIDHYARATHNA SCHOOL OF NURSING, UDUPI
310

365

342
14-11-2016
GOVERNMENT SCHOOL, VONTIKOPPAL
100
343
18-11-2016
ROTARY CLUB, PANAMBOOR
70
344
19-11-2016
NITTE COLLEGE OF NURSING, DERALAKATTE
184
345
19-11-2016
NITTE CENTRE FOR EDUCATION AND RESEARCH, DERALAKATTE
50
346
19-11-2016
NITTE INSTITUTE OF ARCHITECTURE, DERALAKATTE
65
347
19-11-2016

29-4-2017

19-3-2022

NITTE INSTITUTE OF PHYSIOTHERAPHY
40

130

200

348
22-11-2016
SDPT SCHOOL, KATEEL
160
349
23-11-2016
ST ANNS HIGH SCHOOL, MANGALORE
365
350
15-12-2016
GOVERNMENT HIGH SCHOOL, BABBUKATTE
170
351
19-12-2016
GOVERNMENT HIGH SCHOOL, MULKI
50
352
19-12-2016
GOVERNMENT SCHOOL, MULKI
35
353
29-12-2016
GOVERNMENT SCHOOL, KAJARAGUTTU
60
354
29-12-2016
MADHAVA PAI MEMORIAL COLLEGE, MANIPAL
40
355
7-1-2017

10-1-2019

KENDRIYA VIDHYALAYA, YEKKUR
350

70

356
17-1-2017
JINDAL FG COLLEGE, JINDAL NAGAR
500
357
17-1-2017

20-1-2023

GOVERNMENT FG COLLEGE, PEENYA
150

200

358
23-1-2017
GOVERNMENT FG COLLEGE, GANDASI
136
359
24-1-2017
SOUNDARYA INSTITUTE OF MANAGEMENT, BANGALORE
270
360
25-1-2017
SCHOENSTATT ST MARYS HIGH SCHOOL, BANGALORE
250
361
25-1-2017
SCHOENSTATT ST MARYS PU COLLEGE, BANGALORE
250
362
25-1-2017
ST THERESA PU COLLEGE, BANGALORE
300
363
25-1-2017
ST THERESA INSTITUTE OF MANAGEMENT, BANGALORE
100
364
27-1-2017

1-2-2020

MAHARANI LAKSHMI AMMANI FG COLLEGE, MALLESHWARAM
1200

500

365
28-1-2017
KUVEMPU PU COLLEGE, BANGALORE
70
366
28-1-2017
KUVEMPU FG COLLEGE, BANGALORE
130
367
23-2-2017
CLUNY CONVENT, MALLESHWARAM
1200
368
1-3-2017
KAUTILYA VIDHYALAYA HIGH SCHOOL, MYSORE
200
369
1-3-2017
JSS WOMENS FG COLLEGE, MYSORE
300
370
3-3-2017

16-11-2017(2)

NATIONAL PUBLIC SCHOOL, YESHWANTHPURA
230

350

371
9-3-2017(2)
CANARA ENGINEERING COLLEGE, BENJANAPADAVU
410
372
13-3-2017
MGM DEGREE COLLEGE, UDUPI
700
373
24-3-2017

9-3-2020

MSNM BESANT INSTITUTE OF PG STUDIES, BONDEL
100

40

374
4-4-2017
SHREE RAMA HIGH SCHOOL, KALLADKA
100
375
4-6-2017
RUDSET, UJIRE
100
376
10-6-2017
CARMEL SCHOOL, BASAVESHWARANAGAR
1400
377
20-7-2017
GOVERNMENT PU COLLEGE, PALLI
60
378
20-7-2017
GOVERNMENT HIGH SCHOOL, PALLI
140
379
21-7-2017
VIDHYODAYA PU COLLEGE, UDUPI
350
380
22-7-2017

26-6-2019

14-1-2022

GOVERNMENT WOMENS FG COLLEGE, AJJARKADU
1300

950

300

381
9-8-2017
SVK SCHOOL, KUMTA
180
382
9-8-2017
CVSK HIGH SCHOOL, KUMTA
180
383
9-8-2017
SARASWATHI PU COLLEGE, KUMTA
180
384
14-8-2017
GOVERNMENT WOMENS PG CENTRE, AJJARKADU
900
385
19-8-2017
ST PHILOMENA PU COLLEGE, PUTTUR
200
386
29-8-2017
SRI LAXMI JANARDHANA CBSE SCHOOL, BELMAN
480
387
30-8-2017
GOVERNMENT HIGH SCHOOL, HANUMANTHANAGAR
110
388
31-8-2017

2-4-2021

INDIAN MEDICAL ASSOCIATION, KASARGOD

 

60

50

389
23-9-2017
ST VICTORS GIRLS HIGH SCHOOL, PUTTUR
720
390
12-10-2017
PRESTIGE CBSE SCHOOL, JEPPINA MOGARU
510
391
26-10-2017
KUVEMPU UNIVERSITY, SHIVMOGGA
450
392
28-10-2017
GOVERNMENT HIGH SCHOOL, MUNDAJE
140
393
1-11-2017
MRPL, MANGALORE
150
394
15-11-2017
CARMEL PU COLLEGE, BASAVESHWARANAGAR
520
395
16-11-2017
NPS PU, YESHWANTHPURA
150
396
28-12-2017
GOVERNMENT WOMEN FG COLLEGE, MADDUR
150
397
28-12-2017
H.K VEERANNA GOWDH FG COLLEGE, MADDUR
130
398
29-12-2017
VIDYODAYA FG COLLEGE, T.NARASIPURA
150
399
29-12-2017
VIDYODAYA PU COLLEGE, T.NARASIPURA
570
400
30-12-2017
GOVERNMENT PU COLLEGE, MADDUR
200
401
31-12-2017
SAPHALIGA SEVA KENDRA, MUNDKUR
120
402
6-1-2018

16-7-2022

ALVAS FG COLLEGE, MOODABIDRE
100

250

403
17-1-2018
ST PHILOMENA POST GRADUATION CENTRE, PUTTUR
200
404
26-1-2018
BILLAVA SAMAJA, BELVAI
50
405
28-1-2018
KARNATAKA STATE LEVEL PU GIRLS NSS CAMP, UJIRE
130
406
29-1-2018

23-1-2019

VLS INTERNATIONAL SCHOOL, BASAVESHWARANAGAR
320

120

407
30-1-2018
GOVERNMENT SCIENCE FG COLLEGE, NRUPATHUNGA ROAD
300
408
2-2-2018
GOVERNMENT FG COLLEGE, KUSHALNAGAR
400
409
3-2-2018
BHARATHI FG COLLEGE, SHANIVARASANTHE
500
410
3-2-2018
GOVERNMENT FG COLLEGE, KODLIPETE
50
411
4-2-2018
MCF STAFF CLUB, MANGALORE
60
412
9-2-2018
KARNATAKA STATE REDCROSS CAMP, PILIKULA
180
413
23-2-2018
ST PHILOMENA FG COLLEGE, PUTTUR
800
414
6-3-2018
TEJASWINI SCHOOL OF NURSING, KUDUPU
370
415
6-3-2018
TEJASWINI COLLEGE OF NURSING, KUDUPU
100
416
7-3-2018
SRINIVAS INSTITUTE OF DENTAL SCIENCES, MANGALORE
500
417
8-3-2018
CAPUCHIN KRISHIK SEVA KENDRA, BELTHANGADY
400
418
8-3-2018
KMC HOSPITAL, MANGALORE
320
419
24-3-2018
JSS LAW COLLEGE, MYSORE
220
420
11-4-2018
GOVERNMENT POLYTECHNIC, UDUPI
50
421
14-4-2018
SUMMER CAMP BY KMC, ATTAVAR
130
422
15-4-2018
SUMMER CAMP BY RAGA TARANG, MANGALORE
50
423
16-4-2018
SUMMER CAMP BY LIONS AND LIONESS CLUB, MANIPAL
100
424
21-4-2018

31-5-2022

SDM INSTITUTE OF TECHNOLOGY, UJIRE
250

400

425
14-5-2018
KARNATAKA AYURVEDA MEDICAL COLLEGE, MANGALORE
200
426
20-7-2018
EMPRESS GIRLS PU COLLEGE, TUMKUR
1500
427
20-7-2018
UNIVERSITY COLLEGE OF SCIENCE, TUMKUR
250
428
30-7-2018
SSMRV DEGREE COLLEGE, BANGALORE
230
429
30-7-2018
NEMMADHI MANE ORPHANAGE HOME, BANGALORE
20
430
31-7-2018
SSMRV PU COLLEGE, BANGALORE
250
431
16-8-2018
SAHYADRI COLLEGE OF ENGINEERING, BANGALORE
700
432
30-8-2018

30-3-2022

19-11-2022

SDM LAW COLLEGE, MANGALORE
350

160

170

433
30-8-2018
SDM MBA , MANGALORE
150
434
5-9-2018
GOVERNMENT PU COLLEGE, BETTAMPADY
250
435
26-10-2018
MILAGRES HIGH SCHOOL, MANGALORE
60
436
30-10-2018
RN SHETTY PU COLLEGE, KUNDAPURA
200
437
9-12-2018
PARIYALTADKA,PUNACHA
30
438
14-12-2018
GOVERNMENT HIGH SCHOOL, NADA
85
439
14-12-2018
GOVERNMENT PU COLLEGE, NADA
80
440
16-12-2018
CATHOLIC CHURCH, KATIPALLA
40
441
20-12-2018
GOVERNMENT HIGH SCHOOL, KUSHALNAGAR
100
442
20-12-2018
GOVERNMENT PU COLLEGE, KUSHALNAGAR
400
443
20-12-2018
MORARJI DESAI SCHOOL, KUSHALNAGAR
150
444
20-12-2018
MORARJI DESAI PU COLLEGE, KUSHALNAGAR
150
445
20-12-2018
VIVEKANANDA PU COLLEGE, KUSHALNAGAR
150
446
20-12-2018
UNIQUE ACADEMY SCHOOL, KUSHALNAGAR
30
447
20-12-2018
WISDOM PU COLLEGE, KUSHALNAGAR
30
448
20-12-2018
VASAVI WOMENS CLUB, KUSHALNAGAR
60
449
20-12-2018
INNER WHEEL CLUB AND ARYA VAYSHA SAMAJ, KUSHALNAGAR
30
450
28-12-2018
GOVERNMENT PU COLLEGE, HALEYANGADI
140
451
23-1-2019
SSV ENGLISH MEDIUM SCHOOL, ANEKAL
450
452
6-3-2019

20-7-2022

GOVERNMENT DEGREE COLLEGE, SHANKARNARAYANA
300

250

453
7-3-2019
DHARMASTALA GRAMABHIVRIDHI YOJANE, MANGALORE
150
454
10-3-2019
INDIAN DENTAL ASSOCIATION, UDUPI
250
455
30-9-2018

12-3-2019

INDIAN RED CROSS SOCIETY, BANGALORE
100

50

456
11-5-2019
GSB YOUTH SUMMER CAMP, MANGALORE
50
457
15-6-2019
OMPL, MANGALORE
70
458
29-6-2019
ST THOMAS COLLEGE, BELTHANGADY
120
459
5-8-2019

7-9-2019

7-12-2021

29-11-2022

SHRI MADHWA VADIRAJ INSTITUTE OF TECHNOLOGY, BANTAKAL
250

155

330

400

460
8-8-2019

9-8-2019

FATHER MULLER MEDICAL COLLEGE, MANGALORE
70

50

461
21-8-2019
GSSS FIRST GRADE COLLEGE, MYSORE
30
462
21-8-2019
GOPALASWAMY PU COLLEGE, MYSORE
60
463
22-8-2019
GOVERNMENT PU COLLEGE, T.NARASIPURA
950
464
13-9-2019

8-12-2022

DE PAUL INSTITUTION, MYSORE
270

30

465
14-9-2019
JAYALAXMI DEVI PU COLLEGE, MYSORE
30
466
14-9-2019
SBRR MAHAJANAS POST GARDUATION CENTRE, MYSORE
130
467
7-11-2019
NGSM INSTITUTE OF PHARMACEUTICAL SCIENCES, DERALAKATTE
150
468
23-12-2019
GOVERNMENT HIGH SCHOOL, BENJANAPADAV
150
469
23-12-2019
GOVERNMENT HIGH SCHOOL, POLALI
210
470
24-12-2019
GOVERNMENT PU COLLEGE, HIRIADKA
250
471
27-12-2019
GOVERNMENT HIGH SCHOOL, KOILA
250
472
28-12-2019
GOVERNMENT HIGH SCHOOL, GURUPURA
110
473
30-12-2019
GOVERNMENT HIGH SCHOOL, MUDIPU
530
474
3-1-2020
GOVERNMENT HIGH SCHOOL, BYATARAYANAPURA
90
475
3-1-2020
GOVERNMENT PU COLLEGE, BYATARAYANAPURA
60
476
3-1-2020
GOVERNMENT HIGH SCHOOL, ATTIGUPPE
50
477
3-1-2020
GOVERNMENT PU COLLEGE, ATTIGUPPE
200
478
4-1-2020
GOVERNMENT GIRLS HIGH SCHOOL, BASAVANAGUDI
100
479
4-1-2020
GOVERNMENT GIRLS PU COLLEGE, BASAVANAGUDI
400
480
5-1-2020
THE BHARAT SCOUTS AND GUIDES CAMP, DODDABALLAPURA
100
481
7-1-2020
GOVERNMENT HIGH SCHOOL, HIRIADKA
450
482
16-1-2020
SHREE BHARATHI DEGREE COLLEGE, MANGALORE
100
483
17-1-2020
GOVERNMENT FIRST GRADE COLLEGE, THIRTHAHALLI
800
484
24-1-2020
GOVERNMENT HIGH SCHOOL, KONAJE
130
485
24-1-2020
UNIVERSITY FIRST GRADE COLLEGE, KONAJE
140
486
29-1-2020
SRI KRISHNA DEGREE COLLEGE, BANASHANKARI
130
487
30-1-2020
GOVERNMENT FIRST GRADE COLLEGE, NELAMANGALA
250
488
30-1-2020
SRI BASAVESHWARA COLLEGE FOR WOMEN, NELAMANGALA
580
489
31-1-2020
KTSV COLLEGE FOR WOMEN, VIJAYANAGARA
85
490
31-1-2020
PES DEGREE COLLEGE, BANGALORE
80
491
1-2-2020
SESHADRIPURAM EVENING DEGREE COLLEGE, BANGALORE
110
492
4-2-2020

3-12-2022

3-12-2022

10-12-2022

MITE, MOODABIDRE
70

250

230

170

493
9-2-2020
WOMEN POLICE STATION, PUTTUR
30
494
22-2-2020

12-11-2022

AJ INSTITUTE OF ENGINEERING AND TECHNOLOGY, MANGALORE
205

170

495
25-2-2020
ST PHILOMENA HIGH SCHOOL, PUTTUR
500
496
26-2-2020
SUDHANA RESIDENTIAL SCHOOL, PUTTUR
300
497
29-2-2020
GOVERNMENT DEGREE COLLEGE, VITTAL
120
498
6-3-2020
VIVEKANADA KANNADA MEDIUM SCHOOL, PUTTUR
180
499
7-3-2020
NEW MANGALA COLLEGE OF NURSING, MANGALORE
100
500
7-3-2020
MANGALA COLLEGE OF PARA MEDICAL SCIENCES, MANGALORE
400
501
8-3-2020
WOMEN POLICE, BANTWAL
40
502
30-8-2020
LIONS CLUB, MUCHHUR - NEERUDE
30
503
12-11-2020
DARSHAN COLLEGE, BANGALORE
160
504
4-12-2020
INTERNATIONAL WEBINAR, LIONS CLUB MULKI – ZIMBABWE
50
505
17-1-2020
SHREE DEVI VIDHYA KENDRA PUNACHA
100
506
28-2-2021
GOVERNMENT HIGHER PRIMARY SCHOOL, KEREKADU
50
507
7-3-2021
GOVERNMENT HIGH SCHOOL, RAJEEV NAGAR
100
508
10-3-2021
GRAMA PANCHAYAT, IRUVATTHUR
50
509
16-3-2021
DR. NSAM PU COLLEGE, MANGALORE
500
510
25-3-2021
HASSAN INSTITUTE OF MEDICAL SCIENCES, HASSAN
220
511
18-8-2021
SVK NATIONAL COLLEGE OF EDUCATION, SHIMOGA
100
512
26-8-2021

28-5-2022

ST ANNS COLLEGE OF EDUCATION, MANGALORE
50

50

513
28-10-2021
GOVERNMENT HIGH SCHOOL, PALIMAR
70
514
28-10-2021
GOVERNMENT PU COLLEGE, PALIMAR
50
515
20-11-2021
MARYVALE HIGH SCHOOL, KINNIGOLI
370
516
5-1-2022
BOSCOSS PU COLLEGE, MANGALORE
150
517
26-2-2022
VITTAL PU COLLEGE, VITLA
400
518
8-3-2022
ALVAS MBA, MIJAR
100
519
8-3-2022
ALVAS COLLEGE OF NATUROPATHY, MIJAR
100
520
11-3-2022

14-9-2022

YENEPOYA INSTITUTE OF ALLIED HEALTH SCIENCE, MUDIPU
200

200

521
11-3-2022
YENEPOYA (DEEMED TO BE UNIVERSITY) NSS, DERALAKATTE
180
522
6-4-2022

21-4-2022

SRINIVAS UNIVERSITY COLLEGE OF COMPUTER SCIENCE AND INFORMATION SCIENCE, PANDESHWAR
40

40

523
21-4-2022
SRINIVAS INSITUTE OF MANAGEMENT AND COMMERCE, PANDESHWAR
100
524
21-4-2022
SRINIVAS INSTITUTE OF SOCIAL SCIENCES AND HUMANITIES, PANDESHWAR
100
525
21-4-2022
SRINIVAS INSTITUTE OF AVIATION STUDIES, PANDESHWAR
60
526
5-5-2022
OLAMOGRU GRAMA PANCHAYAT, PUTTUR
50
527
19-5-2022
MAHILA SAMAJ MANIPAL
20
528
13-6-2022
SWASTIKA NATIONAL SCHOOL, MANGALORE
70
529
17-6-2022

17-6-2022

GOVERNMENT F G COLLEGE, MAGADI
300

260

530
18-6-2022
AVERY DENNISON (INDIA) PVT LTD, PEENYA
50
531
29-6-2022
RUDSET, BRAHMAVAR
35
532
21-7-2022
CANARA BANK CIRCLE OFFICE, MANGALORE
70
533
23-7-2022
DANDATHIRTHA HIGH SCHOOL, KAPU
130
534
23-7-2022
DANDATHIRTHA PU COLLEGE, KAPU
150
535
26-7-2022
CANARA BANK CIRCLE OFFICE, MANIPAL
50
536
27-7-2022

1-2-2023

CANARA INSTITUTE OF BANK MANAGEMENT, MANIPAL
35

30

537
11-8-2022
EVOLVE – A WOMEN ENTREPRENEUR ASSOCIATION, MANGALORE
30
538
2-9-2022
GOVERNMENT HIGH SCHOOL, MANCHI
250
539
10-9-2022
DHANWANTARI PU COLLEGE, CHIKBANAVAR, BANGALORE
150
540
10-9-2022
DHANWANTARI ACADEMY FOR MANAGEMENT STUDIES, CHIKBANAVAR, BANGALORE
150
541
11-9-2022
ROYAL PALMS LAYOUT, GUBBALALA, BANGALORE
50
542
14-9-2022
YENEPOYA PHYSIOTHERAPHY COLLEGE, DERALAKATTE
200
543
14-9-2022
YENEPOYA PHARMACY COLLEGE, DERALAKATTE
100
544
14-9-2022
YENEPOYA NURSING COLLEGE, DERALAKATTE
300
545
14-9-2022
YENEPOYA HOSPITAL ADMINISTRATION, DERALAKATTE
150
546
14-9-2022
YENEPOYA DEPARTMENT OF AUDIOLOGY AND SPEECH, DERALAKATTE
150
547
15-9-2022
DURGAPARAMESHWARI KALYANA MANTAPA, THEKKATTE
50
548
28-9-2022
SRI VIRESHWARA MANGALYA MANDIRA, GANGOLLI
60
549
29-9-2022
YENEPOYA DEGREE COLLEGE, DERALAKATTE
500
550
30-9-2022
NUCSER, DERALAKATTE
110
551
18-10-2022
KVG DENTAL COLLEGE, SULLIA
230
552
19-10-2022
AJ INSTITUTE OF ALLIED HEALTH SCIENCES, MANGALORE
300
553
27-10-2022
KVG INTERNATIONAL PUBLIC SCHOOL, SULLIA
280
554
27-10-2022
KVG POLYTECHNIC, SULLIA
150
555
2-11-2022
KVG AMARAJYOTHI PU COLLEGE, SULLIA
230
556
2-11-2022
KVG COLLEGE OF ENGINEERING, SULLIA
260
557
5-11-2022
ROSHINI NILAYA PG STUDIES, MANGALORE
60
558
6-11-20222
VISHWA GANIGARA CHAWADI, PANEMANGALORE
200
559
9-11-2022
STELLA MARIS KANNADA MEDIUM HIGH SCHOOL, GANGOLLI
90
560
9-11-2022
STELLA MARIS ENGLISH MEDIUM HIGH SCHOOL, GANGOLLI
110
561
9-11-2022
SARASWATHI VIDYALAYA PU COLLEGE, GANGOLLI
110
562
26-11-2022
DISTRICT COURT, UDUPI
300
563
8-12-2022
TRINITY PU COLLEGE, MYSORE
50
564
8-12-2022
TRINITY DEGREE COLLEGE, MYSORE
80
565
8-12-2022
GOVERNMENT HIGH SCHOOL, HOOTAGALLI
200
566
9-12-2022
JSS (DEEMED TO BE UNIVERSITY), MYSORE
500
567
16-1-2023
PANDYARAJAH BALLAL COLLEGE OF NURSING, ULLAL
250
568
16-1-2023
PANDYARAJAH BALLAL PU COLLEGE, ULLAL
70
569
19-1-2023
DMJ INSTITUTION OF NURSING, BANGALORE
170
570
20-1-2023
VIVEKA VIDHYALAYA HIGH SCHOOL, ANDRAHALLI
120
571
20-1-2023
GOVERNMENT HIGHER PRIMARY SCHOOL, ANDRAHALLI
130
572
8-3-2023
CA INSTITUTE, KODIALBAIL
70